High-speed and high-precision control is realized by the basic performance at the highest level in the industry
Speed and frequency response at 3.2kHz realizes ultra-high-speed control

Fuji's proprietary control algorithm achieves a speed and frequency response at 3.2kHz, the highest level in the industry. This reduces the tact time, enabling high-speed control.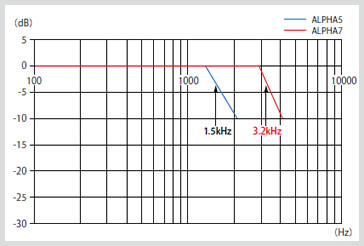 Maximum instantaneous torque of 350%* enables response to high-speed commands

The maximum instantaneous torque of the servo motor is now as high as 350%.
* This is applicable only to certain models.
The 24-bit fine resolution INC/ABS encoder significantly improves the precision of control
The encoder resolution is now as high as 24 bits. This provides much higher control precision than before, enabling high-precision control.
Safer operations are ensured by various safety functions
Standard equipment includes the STO function defined in the international standard IEC61800-5-2. In addition, the WSU-ST1 option adds support for SS1, SLS, SBC, and SSM. These safety functions can be easily configured with parameters.
Equipped as standard with STO (Safe Torque Off)
Upon receiving an input signal from external equipment, the servo system shuts off the output from the servo amplifier and enters into free-run mode.
Support for SS1 (Safe Stop 1) *Option
Receiving an input signal from external equipment, the servo system operates the STO function when the speed is reduced to the specified value or the specified period of time elapses.
Support for SLS (Safely Limited Speed) *Option
The servo system monitors whether or not the speed limit value is exceeded and, if exceeded, enters into STO mode.
Support for SSM (Safe Speed Monitor) *Option
The servo system outputs the SSM signal when the specified speed is exceeded.
Support for SBC (Safe Brake Control) *Option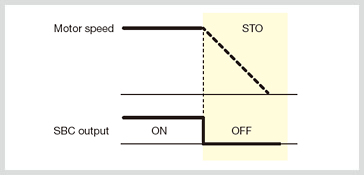 The SBC signal is an output signal for controlling an external brake and operates synchronously with STO.